BRIDGING THE PAST, EXPRESSING THE PRESENT
From spatial dividers and framing motifs, field lighting, and old-fashioned craftsmanship,
s!fan designs
reinterpreted traditional Chinese elements to transform the dark 1970s interior into a welcoming contemporary dining experience.
Compared to the bright red hues of many Chinese restaurants, subdued, richer reds complement the off-white walls, which in turn highlight the existing gold decorations. Traditional screen motifs are arranged in seemingly random compositions, with subtle patterns emerging upon closer examination. Angled motifs reference traditional paper-folding crafts and create new spatial readings, whether by announcing a threshold, synthesizing the furniture with the architecture, or ordering misaligned elements from past renovations and additions.
Custom furniture, module flooring, and LED lighting were designed and selected for durability and easy maintenance, as well as long term cost savings.
Designed by
s!fan designs
.
Angular folded motifs that merge wall, ceiling, and furniture announce a new threshold in the entry hall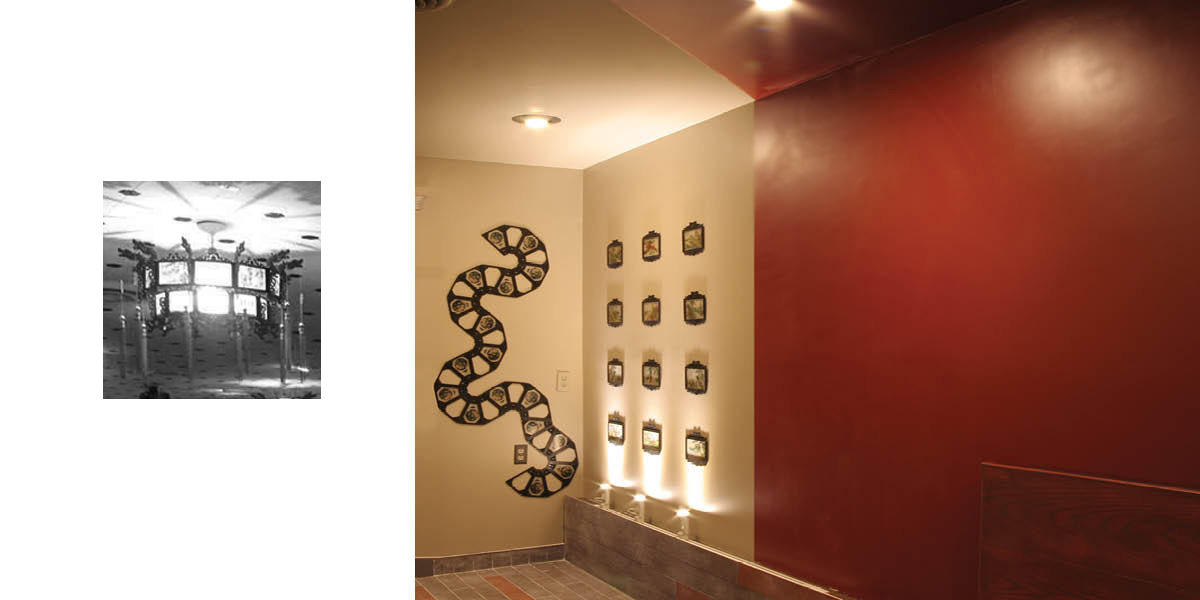 Glass slides from the old dining room lanterns are repurposed to create a grid of frames and a curved motif that references the dining room dragons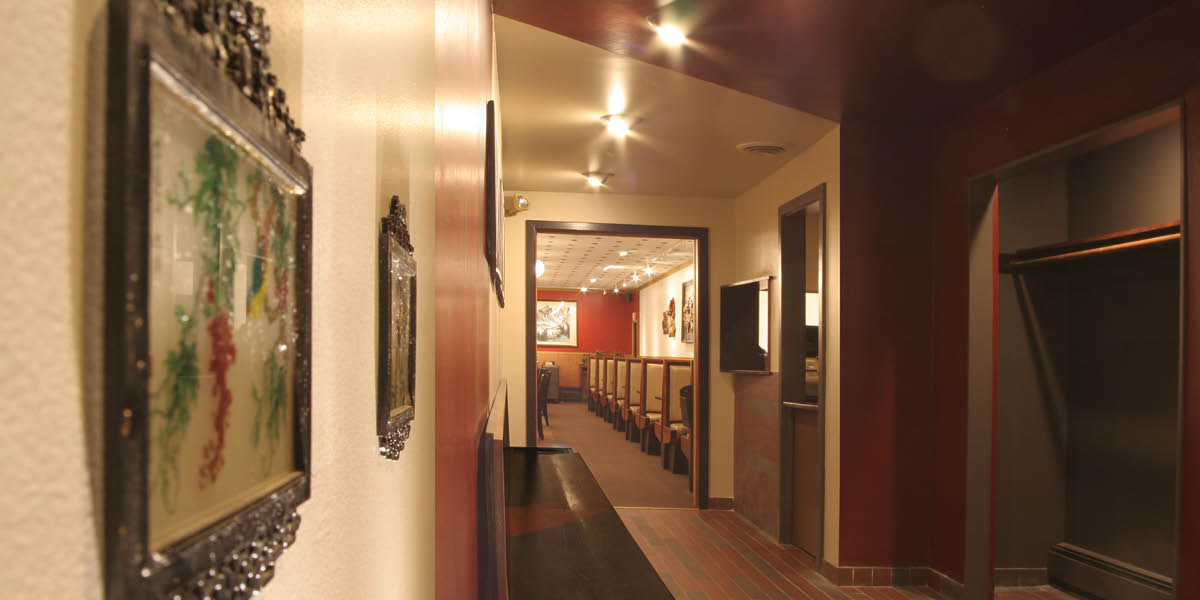 Glass slides are rehung at eye level to enable people to view their details once far removed

Economical 4" X 24" ebony wood ceramic tile flooring are combined to create 4" X 48" units that transition from negative space to positive space
Economical 4" X 24" cherry wood ceramic tile flooring are combined to create 4" X 48" units that transition from positive space to negative space

Combined, the two-colored tile flooring gradually reverses positive/negative space relationships as one walks through the entry hall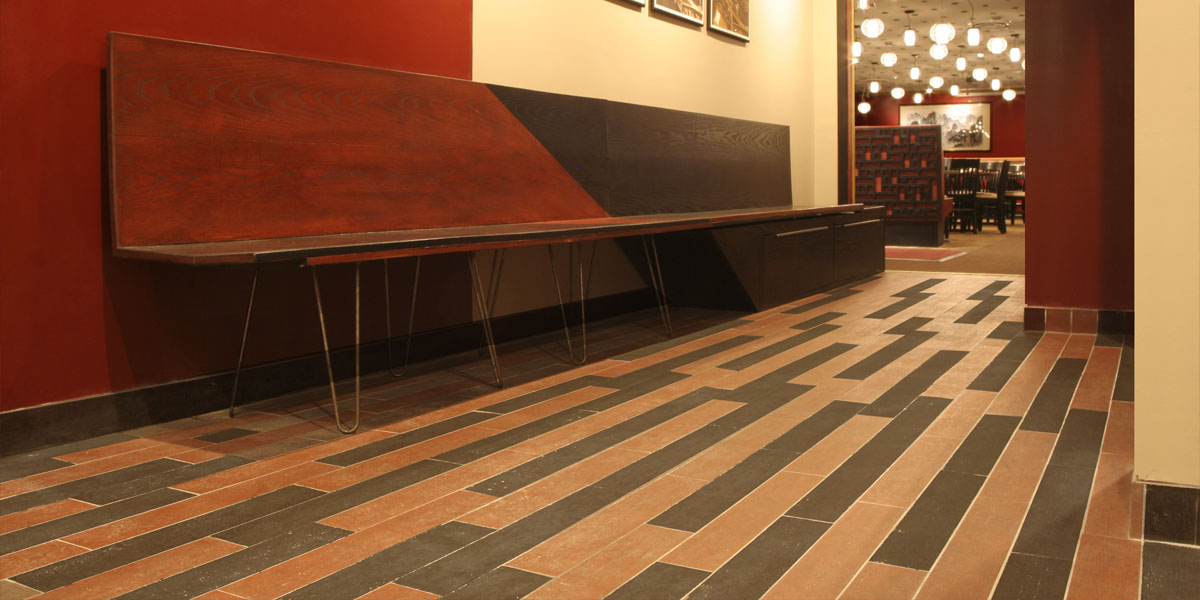 Custom designed banquette provides additional storage. Formally and structurally balancing heavy and light elements, the former stabilizes the latter.
Consistent with the folding motif, the floor tiling wraps along the wall to spatialize surfaces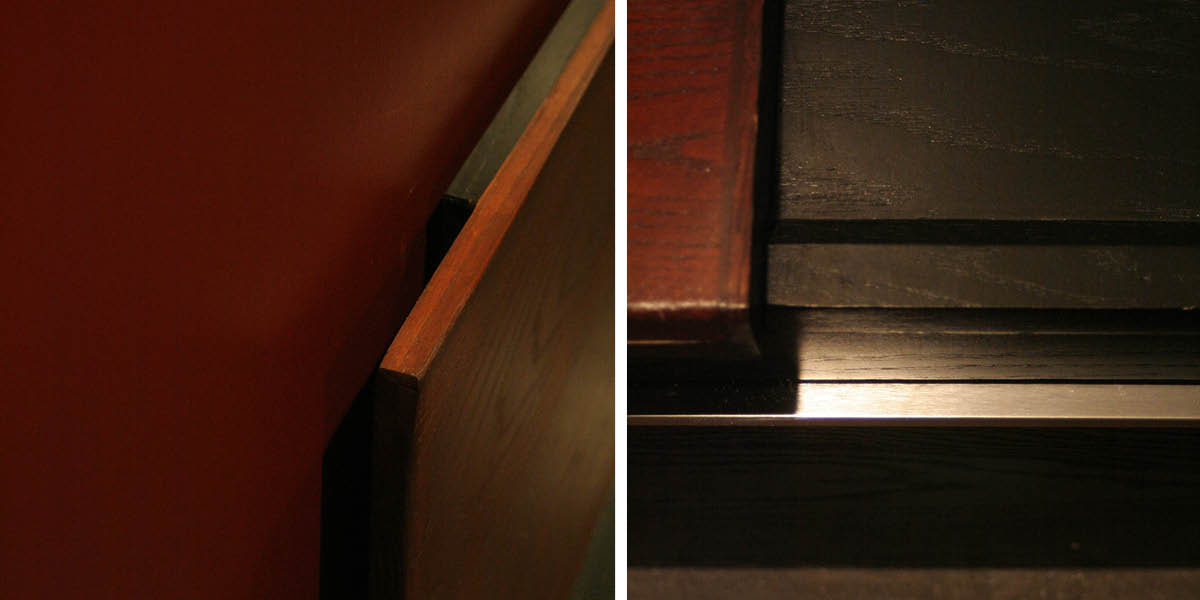 Sliding planes minimize the banquette's perceived thickness on one end.On the other end, the sliding mass creates areas for takeout menu storage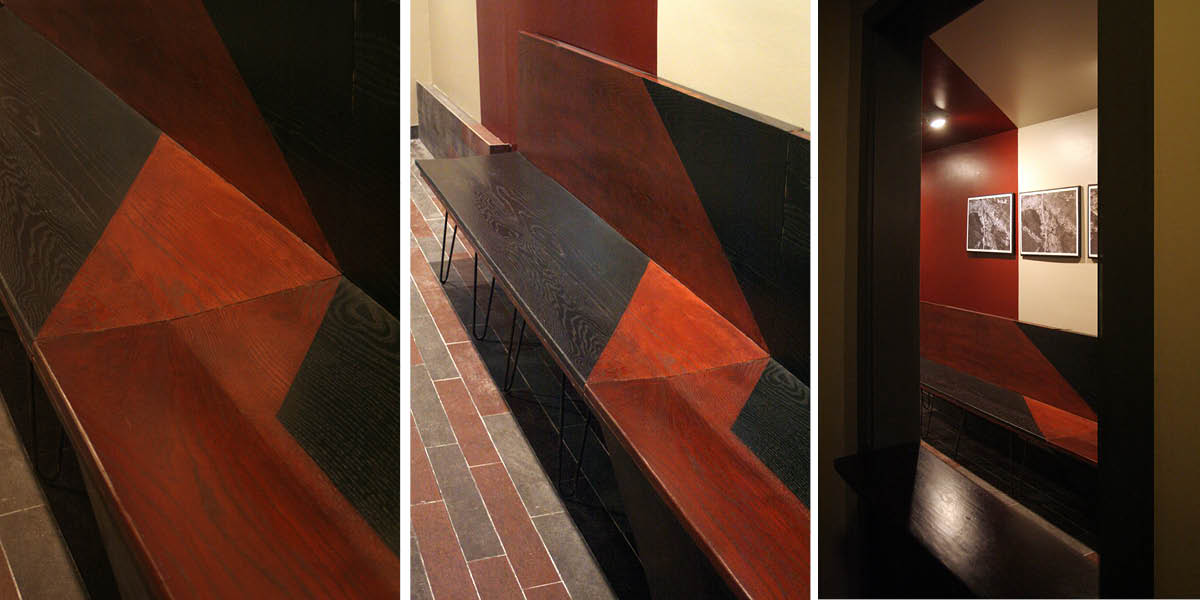 Angular folded motifs create a ribbon effect that merges ceiling, wall, and furniture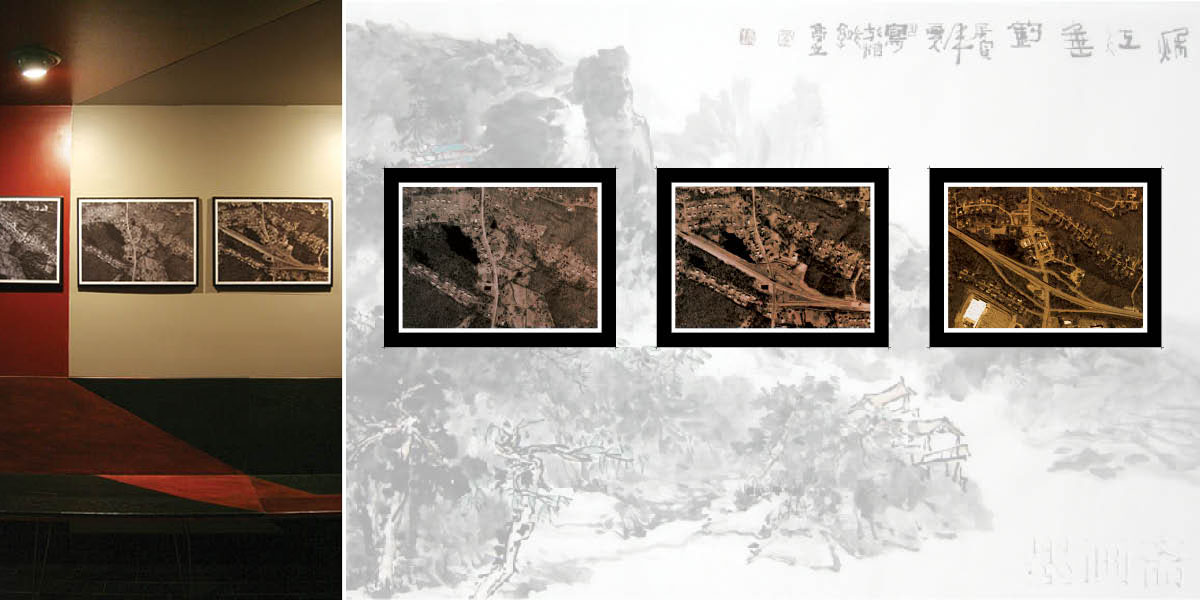 Historic aerial photos of the restaurant site ground the restaurant as a local institution. They also reference the abstract formal qualities of traditional Chinese ink landscapes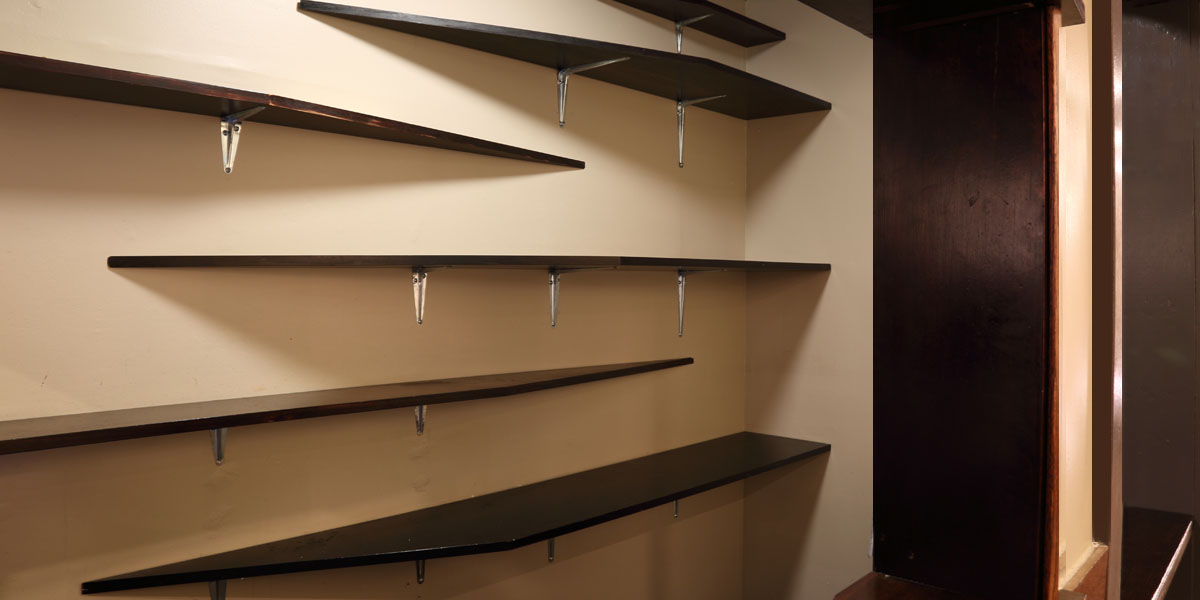 Angular shelving in elevation and plan also create angular shadows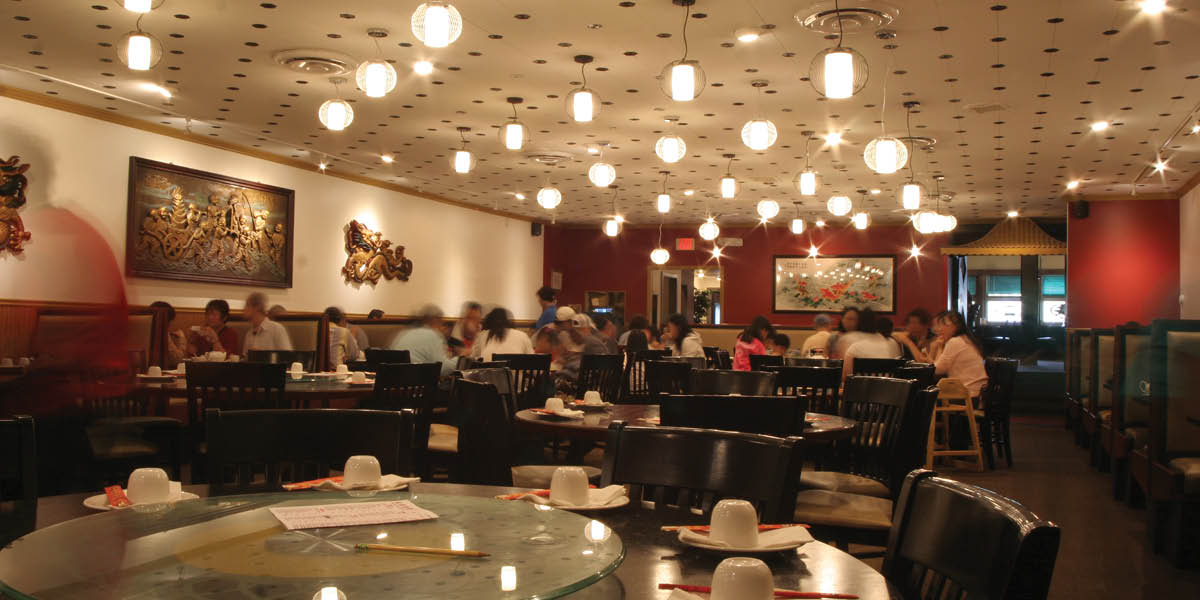 An exploded chandelier: 38 LED lanterns reference traditional Chinese paper lanterns.
A new field of lights unifies the central dining space and allows for the free placement of the tables and chairs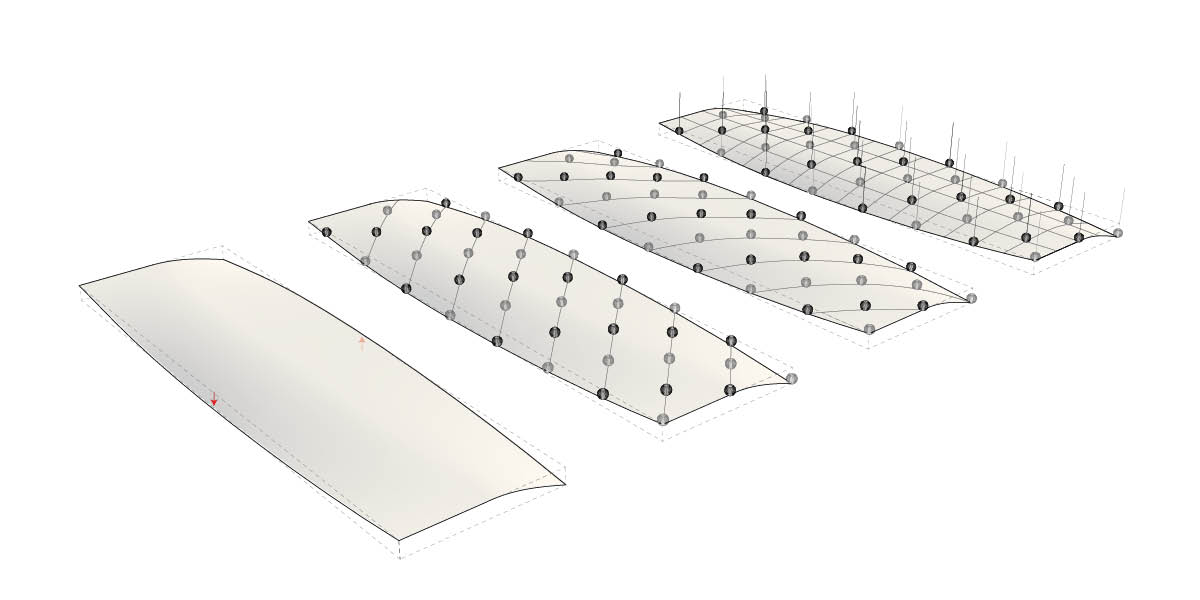 The exploded chandelier conforms to a doubly curved surface.
The silver and bronze lanterns create different patterns (single colored/alternating colored) depending on one's perspective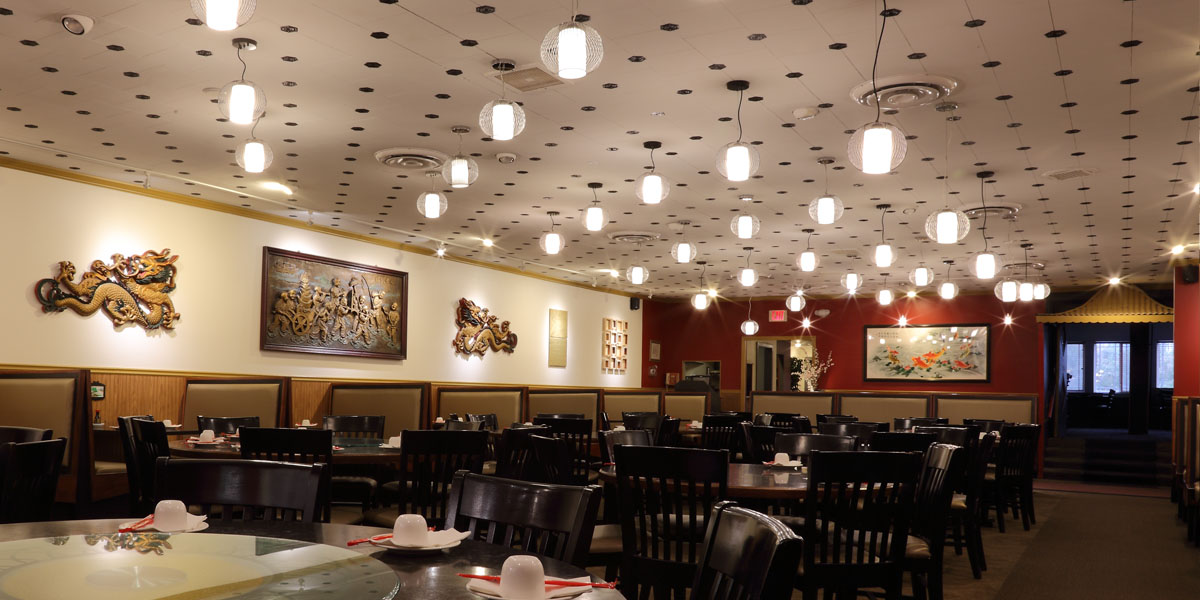 The addition of 50+ new LED lights brightens the space while only using 1/3 of the previous total lighting energy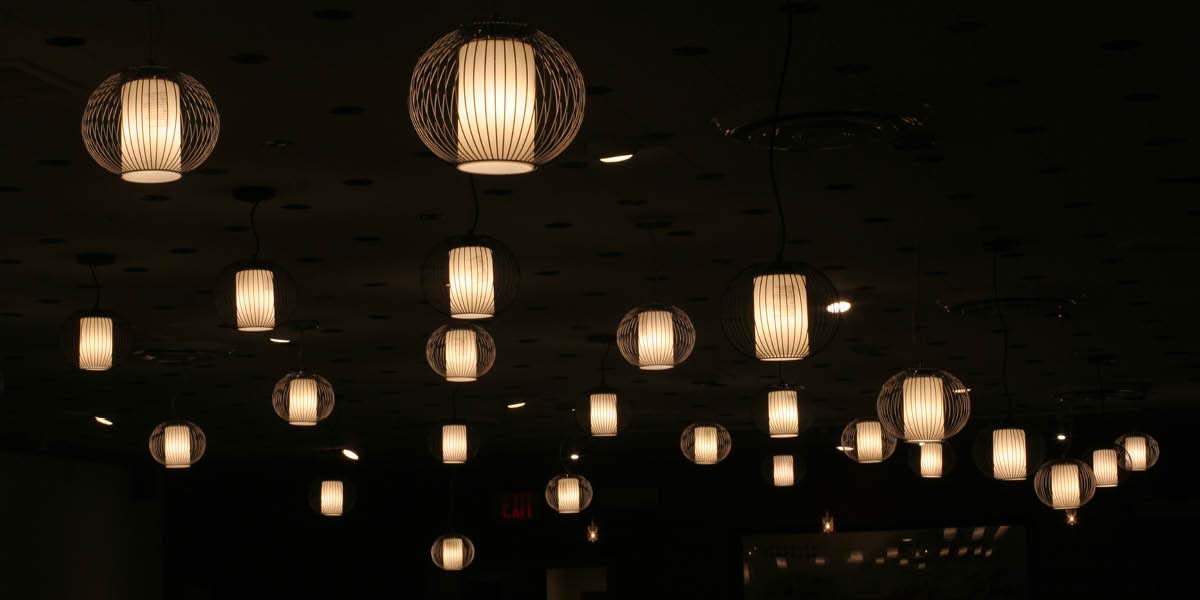 Multiple alignments and patterns emerge from the implied assymetrically curved surface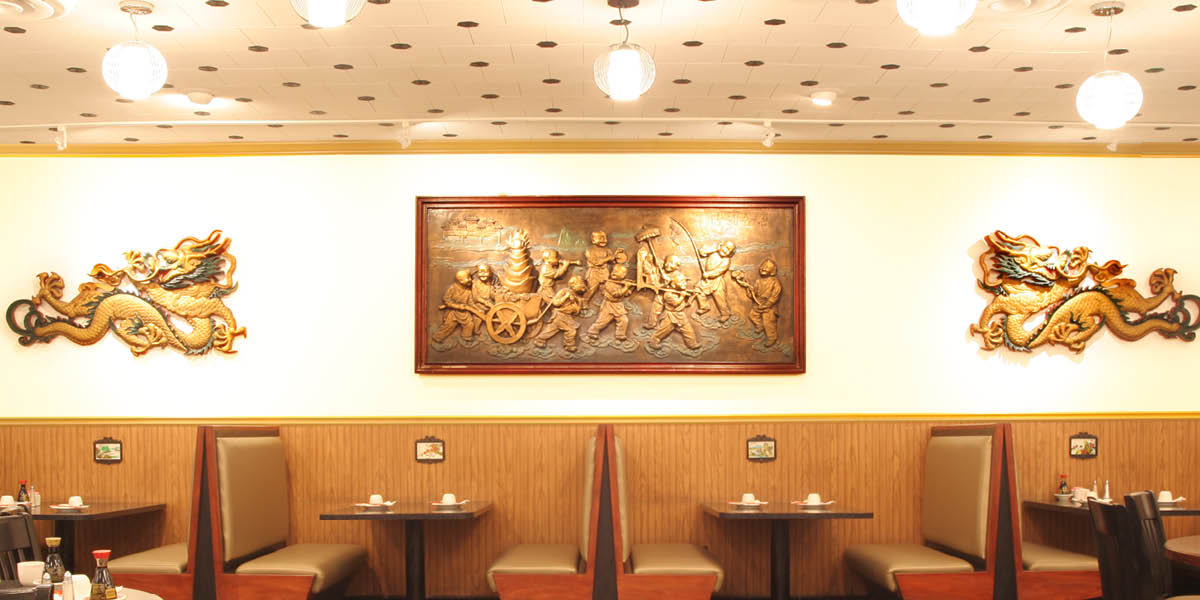 Custom booths create a streamlined appearance while reducing the perception of its bulk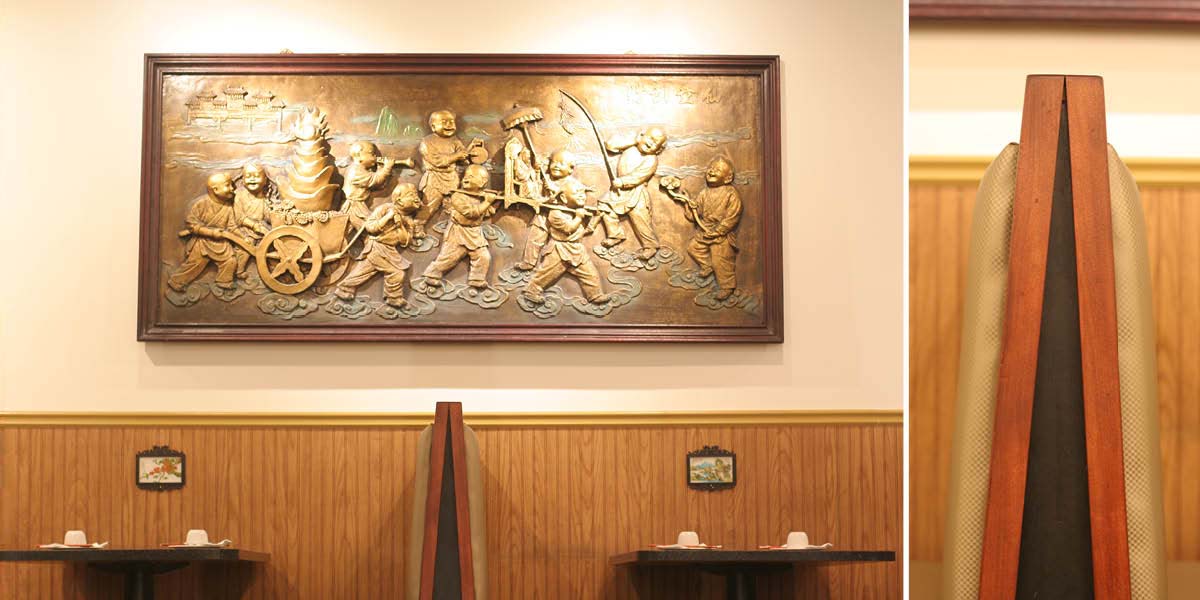 The high relief and black stain of the booth edges create shadow effects to further reduce the booth's bulk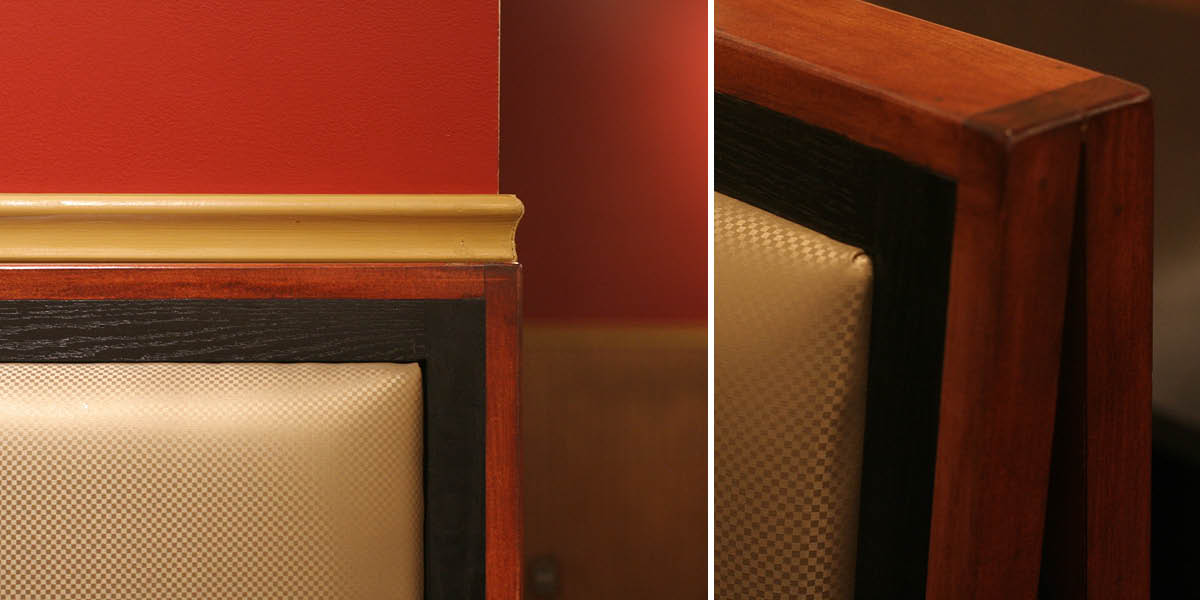 The different wood stains differentiate the frames from afar. The maple and oak wood grains differentiate the frames upclose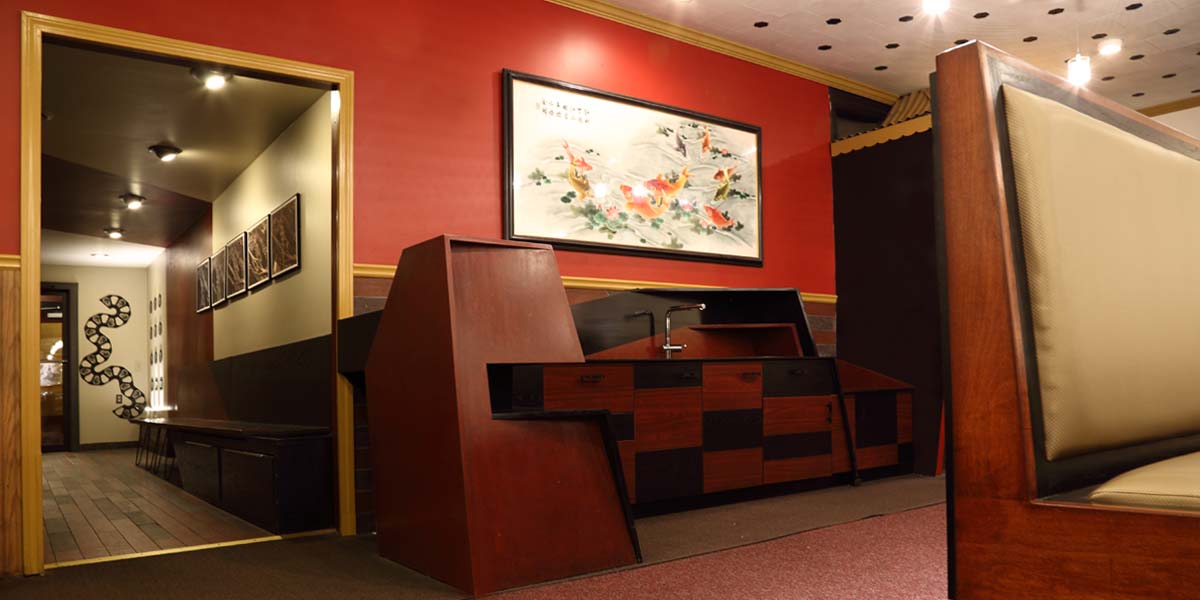 New color scheme integrates the new flooring, custom furniture, and walls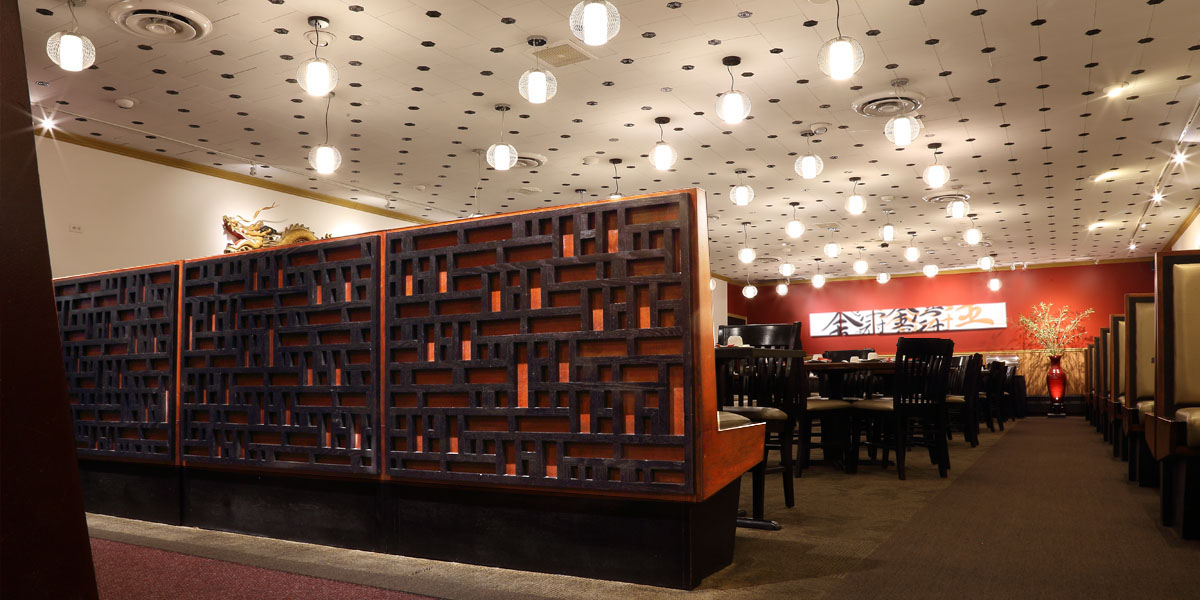 Custom designed trellis references traditional Chinese screens but with a seemingly random, contemporary language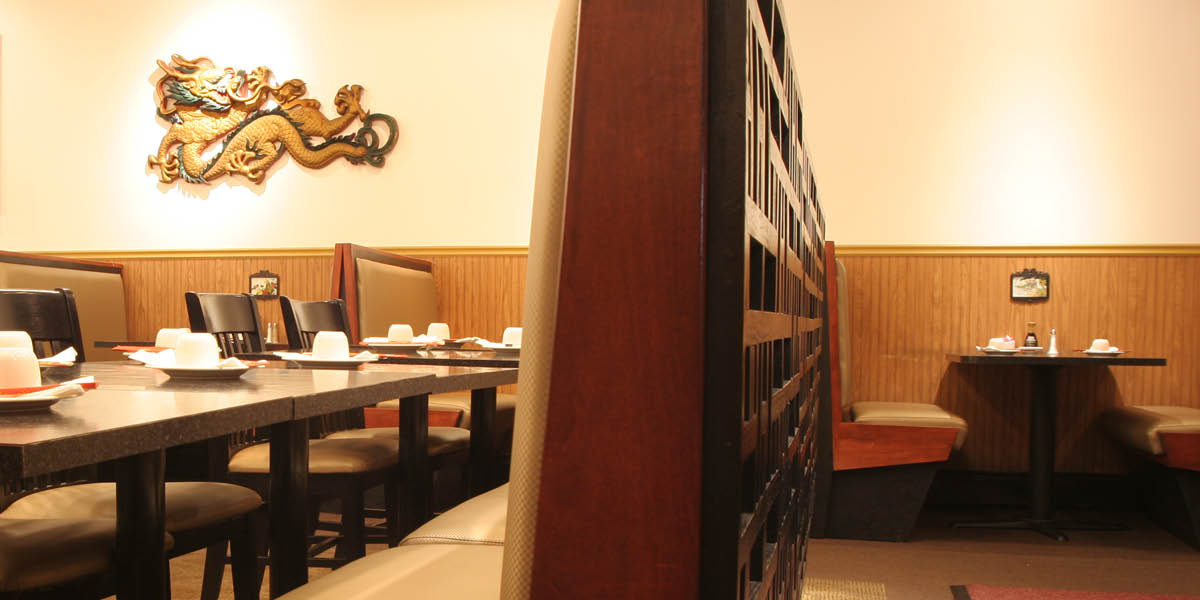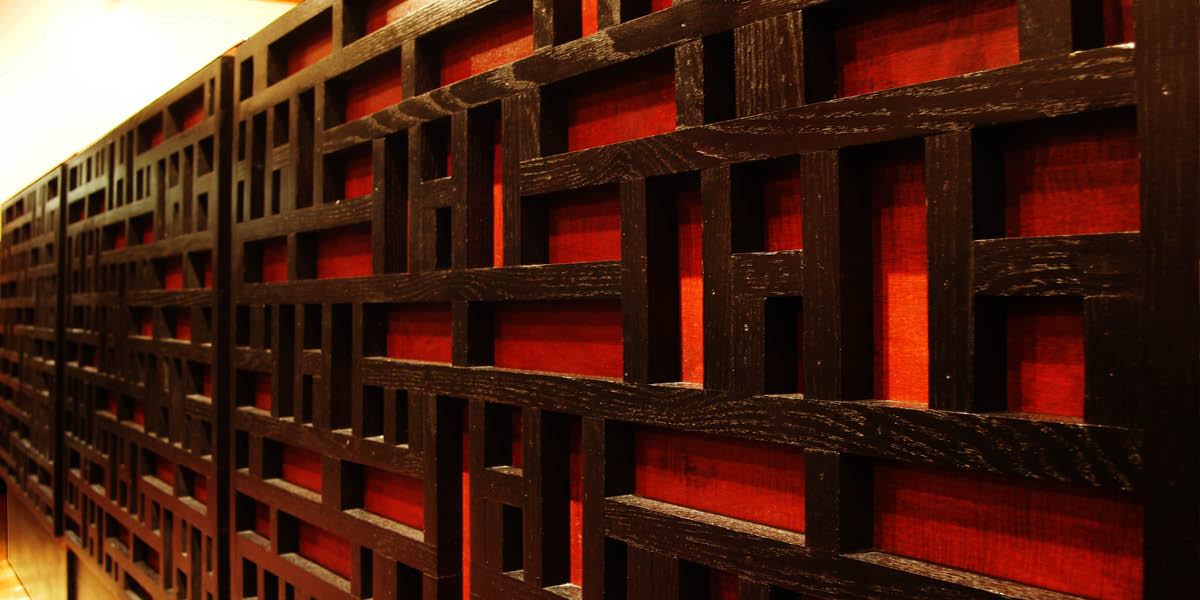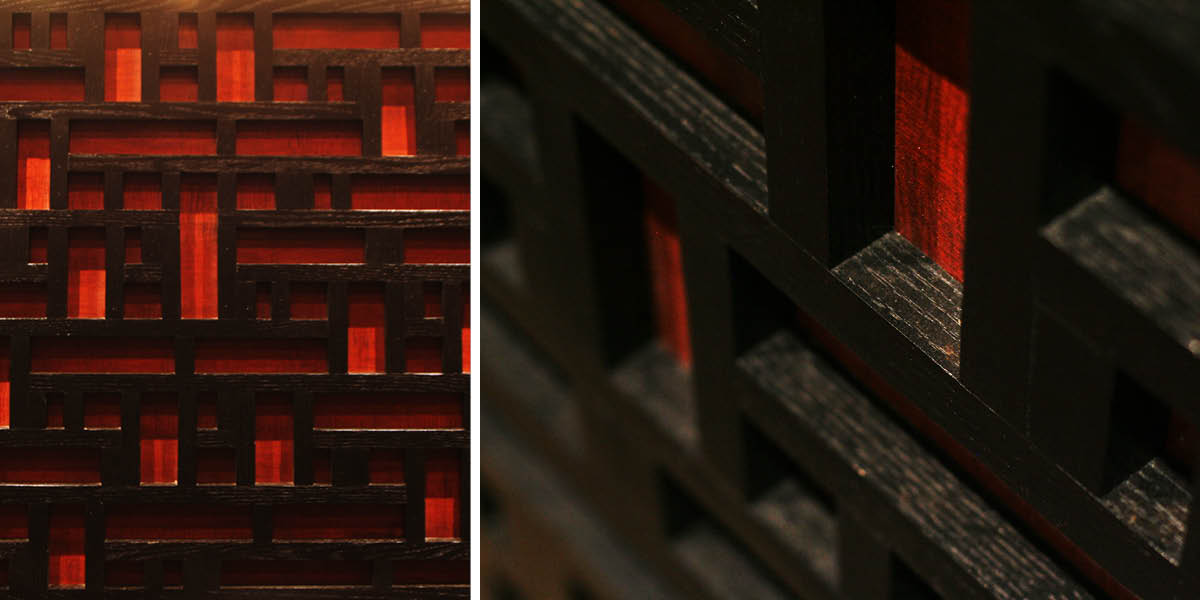 The trellis depth allows patterns of light and shadow to emerge